Primary Care in Tigard, OR
When You Are Looking for Primary Care Services, Make Sure You Think of Columbia Clinic Urgent Care. We Have 2 Locations in the Happy Valley, OR Area. Make an Appointment Online, Call or Simply Walk-in Today!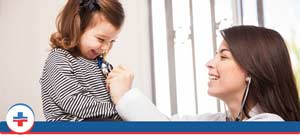 For many families, dealing with their medical care can be one of the yearly chores that is stressful and challenging. From finding the right doctor to scheduling an appointment far in advance, busy families are often left looking for a reliable and accessible physician in the Happy Valley area. At Columbia Clinic Urgent Care in Tigard, OR we make the primary care process easy and straightforward for all of our patients in the area. Instead of scheduling an appointment months in advance, we offer a convenient alternative of walk in primary care services, or available doctors who you can schedule an appointment with a few days in advance. Our goal is to keep everyone in the family healthy and happy, all in a timely manner and stress-free setting in Tigard. Our team of physicians, nurses and technicians has years of experience in providing the best primary care services possible, and we work with patients of all ages at our walk in primary care clinic. From the elderly to small children, we have you covered throughout the week and during flexible hours. Columbia Clinic Urgent Care has various locations in Happy Valley, and can provide your family with accessible and timely medical care.
Primary care at our urgent care clinic consists of a variety of medical services. From providing physicals to patient education, our team can help you and your loved ones stay in great health throughout the year. We know that when a last minute need for a doctor comes up, it is not always easy to find the right doctor. That is why our team is sure to provide all the medical services that your family needs on a walk in and last minute appointment basis. Our primary care services include physicals, patient education, lab work, diagnostics and many other basic healthcare needs. Regardless of your family's needs, we can direct you to the proper medical care when you walk into Columbia Clinic Urgent Care. The physicians at our clinic are Board Certified, and have years of experience in family healthcare and emergency medicine. In addition, we have technicians on site who can provide timely diagnostic results at our laboratory testing clinic in Tigard, OR.
If you and your loved ones are looking for accessible and timely primary care services in the Happy Valley area, then walk into Columbia Clinic Urgent Care today. We offer a wide range of services at our clinic, and can see to your family's needs in a timely manner. Whether you would like to call in ahead for an appointment a few days in advance or walk in for immediate primary care services, we have you covered at our family friendly medical clinic. Please call us today for more information, and we look forward to helping you with all of your medical needs at Columbia Clinic Urgent Care!