Pediatric Sprained Ankle Treatment Specialist Q&A
If your child has suffered from a sprained ankle, they may be in pain or showing other symptoms including swelling. If symptoms are severe or if they do not dissipate, walk into Columbia Clinic Urgent Care for a diagnosis and treatment plan today. For more information call us or visit us online to book an appointment. We have Convenient Locations To Serve You at 82nd Ave, Mall 205, Division St, Tigard and Clackamas.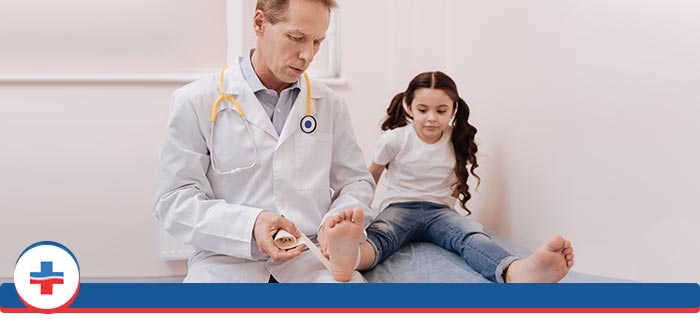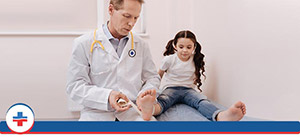 Table of Contents:
How do you treat a sprained ankle in a child?
How long does a sprained ankle take to heal in a child?
How do I know if my child has a sprained ankle?
Ankle sprains are one of the most common injuries we see in children. This is due to any sudden movement or twist of the ligaments in the ankle become overstretched. This then causes tears and bleeding underneath the skin which shows up as swelling and bruising around the affected ankle joint.
How do you treat a sprained ankle in a child?

Treating your child's sprained ankle at home is simple, follow the ever-popular RICE method:

R – Rest
I – Ice
C – Compression
E – Elevation

Some children may need medication for their pain or an anti-inflammatory to help with the swelling. As well, it may be best to visit a physiotherapist to help your child with any ankle exercises they will need to start to stretch out the ankle joint to minimize any of the stiffness that can come into effect after an injury.

While most children can get back to normal and will not need medical attention from an ankle injury, some will need medical attention from their pediatrician based off:

– The pain your child is experiencing with their ankle injury if it hasn't improved after a few days
– Child is unable to put any weight on the injured ankle immediately after the injury
– The area around the injury is tender and they feel pain when pressing over the ankle bones
– You are not able to control the child's ankle pain

Your pediatrician at Columbia Clinic Urgent Care will examine your child's ankle, possibly order an x-ray if they think it's worse than expected and provide a management plan in regards to your child's ankle injury. If your child has any ongoing or recurrent problems with their ankle, you may need to consider an ankle brace or ankle tape to provide more stability for their ankle. Bring up any questions or concerns you may have with your pediatrician about your child's ankle injury at the appointment.
How long does a sprained ankle take to heal in a child?

During the sports seasons and in the summer, children's injuries like a sprained ankle are prominent, and many times happen when your family doctor's clinic is closed, having a pediatrician clinic available for you when your children will need us most, which is at the most unsuspecting times is why Columbia Clinic Urgent Care is available.

Depending on the severity of the ankle sprain will depend on how fast your child's ankle will heal. Minor ankle injuries can recover anywhere from two to three weeks with at-home recovery methods. More severe ankle injuries can take much longer, usually six to eight weeks for a full recovery, and many severe ankle injuries will need medical attention from your doctor's clinic as well as other medical professionals like physiotherapists to help your child feel better and get back to doing the things they love.
How do I know if my child has a sprained ankle?

If your child experiences an ankle sprain, they may be in pain and vocal about what they are feeling, as well as the many symptoms that are easily visible when they injure their ankle. A few of the signs you can look out for if your child sprains their ankle, as well as the severity of it, includes:

– Pain
– Soreness
– Swelling
– Bruising
– If your child is able to bear weight on the ankle
– If your child can walk on the foot with the injured ankle

If your child has suffered from an ankle injury, it is best to protect the ankle by taping it or wearing a lace-up ankle brace or splint until you can get your child in for medical care.

Resting is always a great idea when it comes to any injury, as this will help to prevent a re-injury and limit the swelling your child may experience. Offering pain medication and/or anti-inflammatories for their pain and swelling is also a good idea, talk to your child's family doctor before giving them any medication. Other treatments to help with the child's ankle injury include:

– Ice wrapped in a towel and placed on the injured ankle for 10-15 minutes every 2 hours
– Elastic bandage to help compress the ankle to bring down swelling
– Elevating the ankle to bring down swelling

Always have your child's injuries checked out by a doctor if they are showing more severe symptoms. For more information, call us. We serve patients from Portland OR, PDX, Happy Valley OR, Tigard OR, Milwaukie OR, Cedar Hills OR, Cedar Mill OR, Lake Oswego OR, Oak Grove OR, Vancouver WA, Aloha OR, Minnehaha WA, Gladstone OR, Tualatin OR, West Linn OR, Fairview OR, Oregon City OR.
ADDITIONAL SERVICES YOU MAY NEED