Bacterial Sinusitis in Children Questions and Answers
If your child seems to be struggling with a cold for longer than normal, there is a chance that it has developed into a case of sinusitis. At Columbia Clinic Urgent Care, our experienced team can determine if your child has bacterial or viral sinusitis and provide treatment options as needed. For more information, call us or book an appointment online. We have convenient locations to serve you in 82nd Avenue Portland OR, Division St Portland OR, Mall 205 Portland OR, Clackamas Happy Valley OR, and Tigard OR.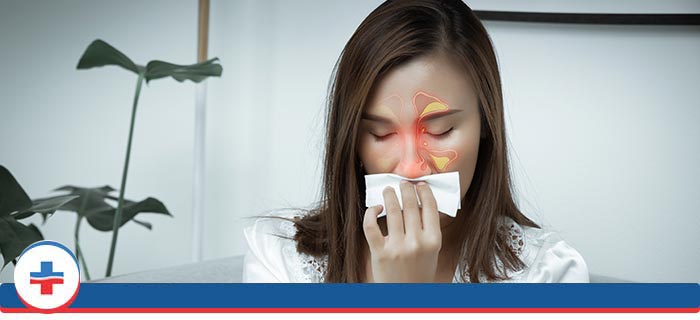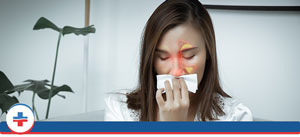 Table of Contents:
What is bacterial sinusitis?
How do I know if my child is experiencing a sinus infection?
How is pediatric sinusitis treated?
Which sinusitis is common in children?
What is bacterial sinusitis?

Bacterial sinusitis is an infection caused by a bacterium that affects the paranasal sinuses. The affected area can be found in the hollow spaces of the face under the cheekbones and beside the nose. It can sometimes feel like, and commonly get confused for, a toothache due to the location of the pain that some people experience. The bacterial infection causes inflammation in the mucous membrane lining inside the sinuses. The bacterial infection that causes sinusitis often develops as the result of a cold or flu, which is both viral infections. A viral infection can potentially cause swelling of the mucosal lining in the sinuses, which prevents the mucus from being able to properly drain out of the sinuses. The inability of the mucus to drain causes bacteria to collect and colonize, leading to a case of bacterial sinusitis. Thankfully bacterial sinusitis is treatable and a doctor or pediatrician will be able to diagnose a child who has sinusitis. The team at Columbia Clinic Urgent Care is here to help with all of your pediatric urgent care needs.
How do I know if my child is experiencing a sinus infection?

Sinus infections can present themselves in several different ways that can vary by individual. A sinus infection will commonly follow on the heels of a cold or flu, so knowing the signs and symptoms of a sinus infection can ensure that you are monitoring your child after they have gotten over a previous illness to see if a sinus infection develops. Symptoms of bacterial sinusitis can present themselves through:

– Feelings of pain or pressure in the face that gets worse when the affected individual leans forward. Areas commonly affected by pain include the forehead, cheeks, around eyes, and nose.
– The expulsion of a thick, discolored nasal discharge. The color can vary but is often a bright greenish color.
– Loss of, or decrease in, the sense of smell and sense of taste
– A stuffy nose

For children, symptoms can vary from those of adults, and parents may notice the following in their child as a sign of sinusitis:
– Cough
– Bad breath
– Crankiness
– Low energy
– Swelling around the eyes
– Post-nasal drip

To confirm if your child has a sinus infection, and if the infection is viral or bacterial, a pediatrician will examine them to determine what type of infection they have. At Columbia Clinic Urgent Care, we are familiar with sinus infections in children and can provide an accurate diagnosis, along with the appropriate treatment to get them back to feeling their best.
How is pediatric sinusitis treated?

Pediatric sinusitis treatment will vary depending on if the child has viral sinusitis or bacterial sinusitis. As the cause of the two is very different, they require different treatment approaches. With viral sinusitis, antibiotics do not do anything to attack the virus and so the treatment approach will be primarily focused on treating the symptoms. Viruses have to run their course and will clear up on their own over time. Bacterial sinusitis on the other hand will typically require a run of antibiotics. These antibiotics can be administered in the form of a nasal spray, nasal drops, or oral medication. Medications for children need to be used with caution and the doctors at Columbia Clinic Urgent Care are highly trained and experienced with medical care for young children to know what is or isn't safe to prescribe them for treatment.
Which sinusitis is common in children?

Most cases of sinusitis in children are in the form of viral sinusitis, as the result of a cold. Bacterial sinusitis can still occur in children but it is not as common. Symptoms of sinusitis are common symptoms of other viral illnesses or allergies, so getting a proper diagnosis from a pediatrician knowledgeable in pediatric sinusitis will ensure that your child is receiving the right treatment. At Columbia Clinic Urgent Care, our doctors are well-versed in childhood illnesses, including sinusitis, and are able to tell the difference between it and another condition. If you suspect your child might have sinusitis, bring them in to get their illness confirmed so they can receive the necessary treatment. We serve patients from Portland OR, PDX, Happy Valley OR, Tigard OR, Milwaukie OR, Cedar Hills OR, Cedar Mill OR, Lake Oswego OR, Oak Grove OR, Vancouver WA, Aloha OR, Minnehaha WA, Gladstone OR, Tualatin OR, West Linn OR, Fairview OR, Oregon City OR.
ADDITIONAL SERVICES YOU MAY NEED