Fever Causes and Treatments Questions and Answers
If you or someone you love is suffering from high fever that is beyond control, please visit Columbia Clinic Urgent Care today. For more information, call us or book an appointment online. We have convenient locations to serve you in Portland OR, Clackamas OR and Tigard OR.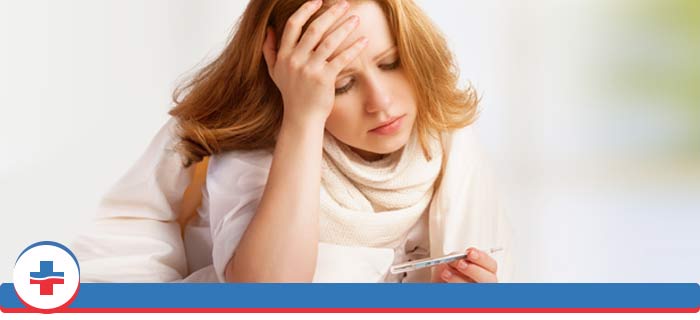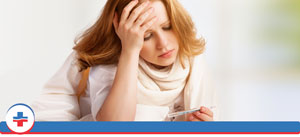 Table of Contents:
What Are Signs You Have A Fever?
What Are The Different Types Of Fevers?
How Do You Treat A Fever?
When Should You See A Doctor For a Fever?
A fever is the body's way of fighting infections caused by viruses or bacteria. They can also result from sunburn or from vaccinations. Anyone can get a fever, regardless of age, although people with compromised immune systems may be particularly susceptible.
What Are Signs You Have A Fever?

Body temperature fluctuates throughout the day due to the ambient temperature, time of day, person, age and activity. The normal average body temperature is generally accepted to be 98.6°F (37°C), though some studies have shown that it can range from 97°F (36.1°C) to 99°F (37.2°C). A temperature over 100.4°F (38°C) generally indicates a fever, and although these are often caused by an infection or illness, it is possible to have one without a known cause. Before taking a temperature take stock of any other symptoms that may be present, such as clamminess, fatigue or body aches and pains. The most common symptoms of a fever include:

– Headache
– Warm forehead
– Chills
– Muscle aches
– General feeling of weakness
– Sore eyes
– Loss of appetite
– Dehydration
– Swollen lymph node

Infants or young children may also experience:

– Irritability
– Lethargy
– Flushed or pale skin
– Difficulty swallowing
– Refusal to eat, drink, or breastfeed

In severe cases, a fever may cause:

– Excessive sleepiness
– Confusion
– Convulsions
– Pain elsewhere in the body
– Unusual vaginal discharge
– Dysuria (pain during urination)
– Skin rashes
– Nausea and/or vomiting
– Diarrhea
What Are The Different Types Of Fevers?

Fevers are usually categorised based on their duration and how high the temperature reaches. The five main types of fever are:

Intermittent fever: fluctuates between normal and fever temperatures over the course of the day.
Remittent fever: comes and goes and, although the temperature fluctuates, never completely goes back to normal.
Hectic fever: an intermittent or remittent fever that has significant temperature swings throughout the day of at least 1.4 degrees Celsius between the highest and lowest readings.
Continuous fever: also known as a "sustained" fever, shows little or no change over the course of a day.
Relapsing: an intermittent fever that can return after days or weeks of normal temperatures; common with animal bites and diseases like malaria.
How Do You Treat A Fever?

Treating, or breaking, a fever can take time and patience and will depend on certain factors such as the age and/or general overall health of the individual.

Examples of some steps to follow are:

– Take the temperature and assess the symptoms. A temperature of 100.4°F (38°C) or higher indicates a fever.
– Get lots of rest.
– Stay hydrated. Drink water, iced tea, or very diluted fruit juice to replenish fluids lost through sweating.
– Sucking on ice chips is an alternative for those who are unable to keep liquids down.
– Take over-the-counter medications like acetaminophen and ibuprofen. Note the proper dosage and use them carefully if taking other medications. Infants under 6 months of age should not be given ibuprofen.
– Stay cool. Remove unnecessary layers of clothing and blankets, unless you have the chills.
– Take tepid baths or use cold compresses. Don't take cold baths, ice cube baths, or alcohol rubs as they can be dangerous and should be avoided.

Regardless of what the thermometer says, consult your doctor if you have any concerns.
When Should You See A Doctor For a Fever?
Most fevers will run their course, however there are situations when medical intervention is necessary. An untreated fever in young children, older adults or those with compromised immune systems can lead to serious complications. Some guidelines of when to seek medical attention are:
Infants and toddlers
Infants up to 3 months old – with a fever of 100.4°F (38°C) or above, even with no other symptoms.
Babies 3 to 6 months old – with a fever above 102°F (38.9°C), or if they have other symptoms.
Children 6 months to 2 years old – with a fever at or above 102°F (38.9°C) that has persisted for more than a day, gets worse, or doesn't respond to medication.
Young children and adolescents
Children ages 2 to 17 years old with a fever that goes above 102°F (38.9°C) can take medication to bring the temperature down, but they should see a doctor
if they are very uncomfortable, or if the fever persists for more than three days.
Adults aged 18 -64
A fever that goes above 103°F (39.4°C) or doesn't respond to treatment requires a call to the doctor. Additional symptoms, such as a stiff neck, severe pain anywhere in the body, or shortness of breath, should seek immediate medical attention.
Adults over 65
A fever that goes above 102°F (38.9°C) or doesn't come down within two days needs medical attention, especially if there are symptoms such as shortness of breath or confusion which require immediate care.
If you have any questions or concerns regarding fevers, their causes or treatment, contact Columbia Clinic Urgent Care today! We serve patients from Portland OR, PDX, Happy Valley OR, Tigard OR, Milwaukie OR, Cedar Hills OR, Cedar Mill OR, Lake Oswego OR, Oak Grove OR, Vancouver WA, Aloha OR, Minnehaha WA, Gladstone OR, Tualatin OR, West Linn OR, Fairview OR, Oregon City OR.
ADDITIONAL SERVICES YOU MAY NEED