Pediatric Skin Infection Treatment Specialist Q&A
Children can come into contact with a variety of sources that can cause a skin infection to develop. Our pediatric doctor at Columbia Clinic Urgent Care can recognize different skin infections in kids and provide the right diagnosis and treatment. For more information call us or visit us online to book an appointment. We have Convenient Locations To Serve You at 82nd Ave, Mall 205, Division St, Tigard and Clackamas.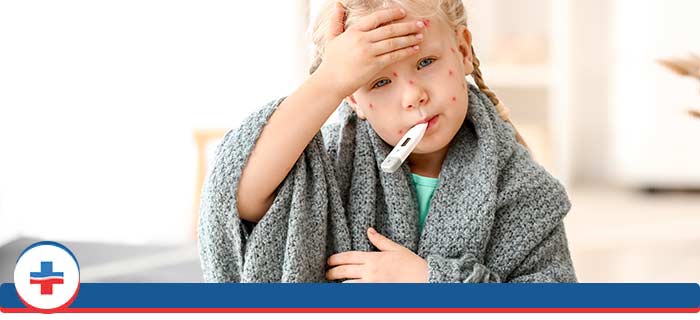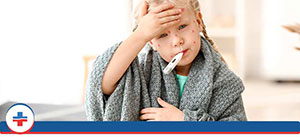 Table of Contents:
What is the most common skin infection?
What are the 5 signs of skin infection?
How long do bacterial skin infections last?
What is the most common skin infection?

There are many common skin infections that affect children, that can be caused by any number of sources. Skin infections can be classified as being viral, bacterial, fungal, or parasitic, with different common infections listed under each grouping. Symptoms of the different types of skin infections can have similarities so it can be hard to distinguish what type of infection your child has without the help of a doctor. The different skin infections in kids include:

– Viral infections are caused by a virus that can present themselves in children through the appearance of warts, hand-foot-and-mouth disease, herpes simplex, or molluscum contagiosum.

– Bacterial infections are caused by bacteria and show up in the form of impetigo, cellulitis, and abscesses.

– Fungal infections commonly experienced by children include tinea capitis, tinea corporis, and oral and genital candidiasis.

– The most common parasitic skin infection that affects children is scabies.

In most cases, treatment for skin infections is available for patients, either through the use of topical cream or oral antibiotics. Your doctor will be able to provide the appropriate treatment for your child's skin infection once the type of skin infection has been identified. The team at Columbia Clinic Urgent Care is familiar with all types of skin infections that can affect children and are able to diagnose and treat them, or at least manage the symptoms to provide relief.
What are the 5 signs of skin infection?

Skin infections are easily recognizable on a child's skin although symptoms of a skin infection can appear to be very similar to eczema. Both conditions cause the skin to become swollen and itchy, and it can sometimes ooze fluids that form a crust over the skin. Skin infections will have slightly different symptoms than eczema though, and upon closer inspection, a skin infection can have the following signs:

– A crust over the skin that appears to be a yellowish-orange or honey-colored
– Blisters that are filled with pus
– Sores that appear to be fever blisters or cold sores
– Reddish and swollen bumps on the surface of the skin
– Redness or streaks that spread across the skin

Your child may exhibit additional symptoms not related to their skin but can indicate a skin infection as their body's way of fighting. These symptoms of an infection include fever, symptoms similar to the flu, pain, and swollen tonsils or other lymph nodes. A pediatrician, such as our team at Columbia Clinic Urgent Care can examine your child's skin and check their other symptoms to determine if they are in fact experiencing a skin infection. If they are, the doctor will determine what type of infection and provide a treatment plan suitable to the symptoms and the cause. We provide walk-in urgent care to patients under the age of 18.
How long do bacterial skin infections last?

The duration of a bacterial skin infection can depend on where the infection is, how healthy the patient is, what type of bacteria is causing it and what the treatment approach is. The good news is that treatment is available for bacterial skin infections for patients of all ages. Once treatment has begun, patients can start to see an improvement in the affected area over the course of the first few days, with the skin continuing to clear up for the duration of the treatment. The complete time it takes for the skin infection to clear up will vary from one person to the next, and your doctor can provide you with more information on what you can expect. For children under the age of 18, a pediatric urgent care can properly diagnose and provide treatment for skin infections. Columbia Clinic Urgent Care offers walk-in treatment for skin infections and other ailments that affect children. We serve patients from Portland OR, PDX, Happy Valley OR, Tigard OR, Milwaukie OR, Cedar Hills OR, Cedar Mill OR, Lake Oswego OR, Oak Grove OR, Vancouver WA, Aloha OR, Minnehaha WA, Gladstone OR, Tualatin OR, West Linn OR, Fairview OR, Oregon City OR.
ADDITIONAL SERVICES YOU MAY NEED