Pediatric Walk-In Clinic in Portland OR
At Columbia Clinic Urgent Care, we offer pediatric care services for children of all ages on a walk-in basis. Our experienced doctors and medical professionals are ready to help your little ones to feel better! For more information contact us today. We have convenient locations to serve you in 82nd Avenue Portland OR, Division St Portland OR, Mall 205 Portland OR, Clackamas Happy Valley OR, and Tigard OR.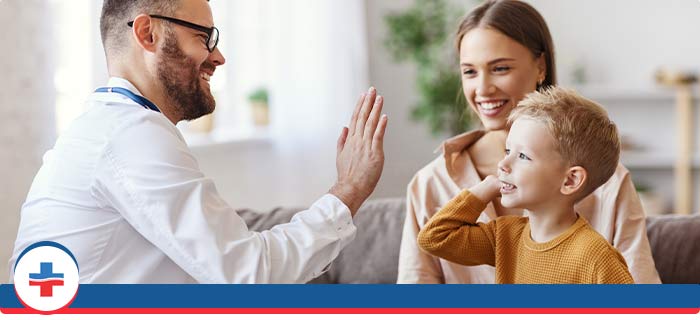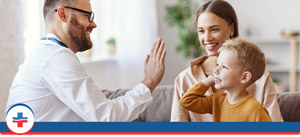 Table of Contents:
What can a pediatric clinic do for my child?
How often should my child see a pediatrician?
What services can a pediatric clinic provide?
Where can I get Pediatric care for my child?
What can a pediatric clinic do for my child?

Pediatricians often work at pediatric clinics and they are specialized doctors that work with children. They provide a wide range of services to children, and youth as well as their families. Pediatricians focus on a variety of things and can do the following:

– Provide primary care
Primary care is ongoing, as it's the work of helping sick children feel better and preventing healthy children from getting ill. Primary care includes:
Physicals
Diagnosing
Treating issues while providing education and advice
Immunizations
 
Pediatricians also ensure their patients are reaching the milestones they should, growing and developing as each child should. If the pediatrician notices any issues developing within their patient, they may seek out another healthcare professional for more specialized care.
 
– Investigate, examine, and manage acute and chronic illness
Many children have complex medical needs which pediatricians take care of. Of these complex medical conditions there may be long-term disabilities or conditions including cystic fibrosis, asthma, diabetes, or mental health issues.
 
– Promote health
Promoting staying healthy within children by providing advice on issues such as nutrition, physical activity, injury prevention, and behavior.
 
– Research and evaluate specific treatments to help with illnesses
Doing research will contribute to new ways of treating health issues within babies, children, and youth. Pediatricians also need to evaluate current ways to care for children and youth in general to ensure the methods being used will work.
 
– Work with specialists
Pediatricians work with other healthcare specialists who may care for children like child protection services, psychologists, and teachers.
 
– Advocate for infants, toddlers, children, and youth
How often should my child see a pediatrician?

Immediately after a baby is born, is the time where you will see your pediatrician the most. As the pediatrician will need to be seen to be examined for developmental milestones. These times include month 1, 2, 4, 6, 9, 12, 15, 18, 24, and 30 months. After this, the child will be seen at 3 years of age and 4 years of age. It is recommended that the children visit a pediatrician after they turn 4 each year for an annual check-up.
What services can a pediatric clinic provide?

Pediatricians not only work with newborns and young children, but they also take care of children well into their young adulthood. A pediatrician will offer a wide range of pediatric services to ensure your child grows up healthy and happy, these services include:
 
– Newborn exams
– Well-child exams
– School, sport and camp physicals
– Immunizations
– And so much more!
Where can I get Pediatric care for my child?

To find a pediatrician near you there are a few ways in which to find one:
 
– Word of mouth
A great way to find out about a great pediatrician is to simply ask your friends and family about the pediatricians their children go to.
 
– Referrals
Some pediatricians will require a referral form from your family doctor or a nurse. This is rare but can happen. Or you can ask your family doctor to refer you to a pediatrician that they have seen success with.
 
– Search engine searches with top keywords
Searching for a pediatrician near you with keywords like "pediatrician near me", "pediatric clinic near me" or "pediatricians taking new clients near me"
 
Columbia Clinic Urgent Care has pediatricians on staff for any healthcare illnesses, injuries, or issues that need to be taken care of when our youngest of patients come in. We serve patients from Portland OR, PDX, Happy Valley OR, Tigard OR, Milwaukie OR, Cedar Hills OR, Cedar Mill OR, Lake Oswego OR, Oak Grove OR, Vancouver WA, Aloha OR, Minnehaha WA, Gladstone OR, Tualatin OR, West Linn OR, Fairview OR, Oregon City OR.
ADDITIONAL SERVICES YOU MAY NEED