Compliance & Conduct at Urgent Care in Portland, Oregon
At Columbia Clinic, We Make Sure To Comply With All Applicable Laws. Visit Our Urgent Care Clinics Today in the Greater Portland Area.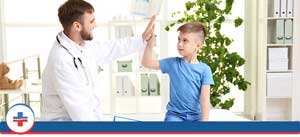 Table of Contents:
Legal and Regulatory Compliance
Business Information and Information Technology
Business Conduct
Legal and Regulatory Compliance

We strive to ensure that all activities conducted by, or on behalf of, the organization are in compliance with applicable laws, regulations, and industry standards.

– We will provide healthcare services, planning and management support consistent with federal and state laws and regulations that apply to our business.

– We prohibit any employee or agent of the clinic from knowingly presenting or causing to be presented claims for payment or approval that are false, fictitious or fraudulent.

– We comply with federal and state laws, regulations and guidelines relating to all cost reports.

– We follow the Emergency Medical Treatment and Active Labor Act (EMTALA) in providing an emergency medical screening examination and necessary stabilization to all patients, regardless of ability to pay.

– We deal with all survey or accreditation bodies in a direct, open and honest manner. No action should ever be taken in relationships with survey or accrediting bodies that would mislead the members of the survey or accrediting team, either directly or indirectly.
Business Information and Information Technology

We are all responsible for the accuracy, integrity and security of our organization's documents and records.

– We may not alter or falsify information on any record or document.

– Company books and records shall not contain false or misleading information.

– Records must never be destroyed in an effort to deny governmental authorities access to that which may be relevant to a government investigation.

– We will maintain medical and business documents and follow our record retention policy in accordance with applicable laws, HIPAA and other applicable guidelines.

– We communicate honestly and candidly with attorneys and auditors.

– We are committed to maintaining the privacy and confidentiality of patient information entrusted to us in accordance with legal and ethical standards.

– We will release medical, clinical or business information only when such release is supported by a legitimate clinical or business purpose and is in compliance to procedures and applicable laws, rules and regulations.

– We will respect the privacy of our patients, co-workers and customers and safeguard patient, employee and customer information from physical damage.

– We will exercise care to ensure that confidential and proprietary employment-related information (salary, benefits, payroll, personnel records) is carefully maintained and managed to protect its value and integrity.

– We will maintain computer passwords and access codes in a confidential and responsible manner.

– We maintain and monitor security systems, data backup systems and storage capabilities to ensure that information is maintained safely and securely in accordance with our policies and procedures and state and federal requirements.
Business Conduct

To further Columbia Medical Clinic's commitment to the highest standards of business ethics and integrity, employees will accurately and honestly conduct business in an honest and ethical manner.

– We act in the best interest of Columbia Medical Clinic in our dealings with suppliers, customers and government agencies. This includes those acts formalized in written contracts as well as everyday business relationships.

– We conduct business in a manner that avoids conflicts of interest and the appearance of conflicts of interest.

– We do not give or receive any form of payment, kickback or bribe to induce the referral or the purchase of any service.

– We do not offer any improper inducement or favors to patients, providers or others to encourage the referral of patients to our facilities or to use a particular product or service.

– Business transactions with vendors, contractors and other third parties shall be transacted free from offers or solicitations of gifts and favors or other improper inducements in exchange for influence or assistance in a transaction.

– Individual employees shall not solicit tips, personal gratuities or gifts from patients.

– We comply with the laws regarding intellectual properties, including patents, trademarks, marketing, copyrights and software.

– All employees are responsible to ensure that they do not improperly copy for their own use documents or computer programs in violation of applicable copyright laws or licensing agreements.

– We will not contract with persons or entities that have been sanctioned by any regulatory agency or excluded from participation in any federally funded healthcare program.

– We comply with applicable antitrust and similar laws that regulate competition. We avoid inappropriate discussions with competitors regarding business practices.

– We will not make false or misleading statements to any patient, physician, person or entity doing business with Columbia Medical Clinic.

– We shall not use confidential business information obtained from competitors (customer lists, price lists, contracts or other information) in violation of any covenant not to compete or any prior employment agreements or in any other manner likely to provide an unfair competitive advantage to Columbia Medical Clinic.
ADDITIONAL SERVICES YOU MAY NEED