Rash and Allergic Reaction Treatment Questions and Answers
Do you have a rash? Do you have allergies? Talk to our team at Columbia Clinic Urgent Care. We help treat rashes and allergic reactions. We also accept walk-ins.

Call us

today or visit us online to

book an appointment.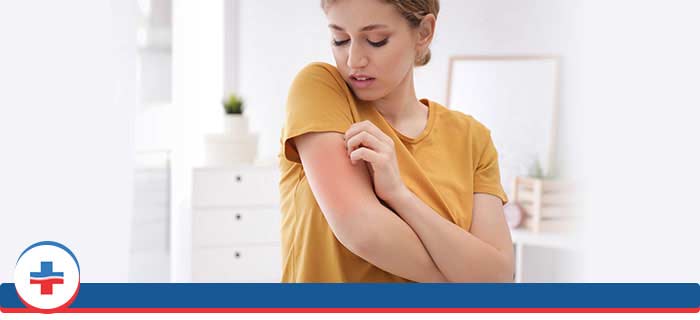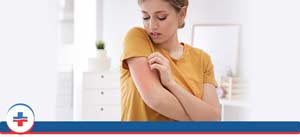 Table of Contents:
How do I know if an allergic reaction is serious?
What are some common symptoms of allergic reactions?
How long does an allergic reaction last?
Where can I get allergic reaction treatment near me?
How do I know if an allergic reaction is serious?

Different allergies will present themselves differently for each individual who suffers from allergies. One person's allergic reaction isn't going to be the same as someone else who also has an allergy to a particular allergen. It is important to understand the signs and symptoms of a severe allergic reaction to know when you need to seek medical attention immediately. Some allergic reactions can cause anaphylactic shock, which can lead to death if not immediately treated. Allergens can come in many forms associated with the environment, animals, food and other items we can come into contact with. Allergens that can cause severe allergic reactions to include pet dander, insect stings and bites, certain medications and foods such as peanuts, tree nuts, shellfish, eggs, milk, wheat and soy. Symptoms of an allergic reaction can vary and include sneezing, rashes, hives, runny nose, itchy eyes, nausea and stomach cramping. Serious and severe allergic reactions can cause swelling of the throat, causing the person having the reaction to have trouble breathing. Allergies that cause swelling are serious and require close monitoring for contact with allergens. It is also recommended that people who suffer from serious allergic reactions carry some form of epinephrine injectable medication to be administered in the case of a severe reaction until the individual can receive medical treatment.
What are some common symptoms of allergic reactions?

Allergic reaction symptoms will vary depending on the individual and the allergen that causes the reaction. They can also vary in their severity depending on the reaction the body has to the allergen. Common symptoms of an allergic reaction can include a skin rash, sneezing, hives, runny nose, itchy eyes, stomach cramping, and nausea. Severe allergic reactions can cause a swelling in the throat, known as anaphylaxis, that can be life-threatening if not treated. Allergic reactions don't always show up immediately after coming into contact with an allergen, with symptoms sometimes taking up to a few hours to appear. Individuals who have what could be considered an allergic reaction will be asked to list out everything they have ingested, come into contact with, and been exposed to over a 24-48-hour period to help the doctor narrow in on what could be causing the reaction. Continuous exposure to allergens can cause an individual to have more severe and longer-lasting reactions so it is important to determine what the allergens are and avoid exposure to them as much as possible.
How long does an allergic reaction last?

The length of time an allergic reaction lasts will depend on several factors. Generally speaking, allergy symptoms will disappear within a few hours to a few days on their own or with treatment from medication or creams. In the case of seasonal allergies where the allergens, such as pollen, are floating around in the air, the allergy symptoms can last for a few weeks to a few months, depending on how long it takes the air to clear. The same is true for people who are allergic to smoke or pollution and live in areas where these environmental factors can get worse for several days or weeks at a time. The length of time required for symptoms can clear up will also depend on how severe the allergy is, how much of the allergen the person was exposed to, how well their immune system can fight the reaction and how well their body responds to treatment. It is important to monitor the duration of your allergic reaction symptoms so that if they are lasting longer than normal, getting more severe, or not responding to treatment as well as they have previously, you can work with your doctor on a suitable solution.
Where can I get allergic reaction treatment near me?

Your family doctor is a good starting point for the treatment of your allergies. They may be able to help you with common allergies with mild symptoms. They can also refer you to an allergist for more in-depth allergy determinations in which you will undergo exposure to a series of common allergens to pinpoint which ones are causing the reaction and understand the severity of your reaction. Allergists can also provide treatment options to help you manage your allergy symptoms. If you are having an allergic reaction that is mild to moderate, you can seek medical treatment through an urgent care clinic. In the case of anaphylaxis, immediately call 911 or get yourself to the nearest emergency room for treatment.

For all types of rashes and allergies, call us or visit us online to book an appointment. We serve patients from Portland OR, PDX, Happy Valley OR, Tigard OR, Milwaukie OR, Cedar Hills OR, Cedar Mill OR, Lake Oswego OR, Oak Grove OR, Vancouver WA, Aloha OR, Minnehaha WA, Gladstone OR, Tualatin OR, West Linn OR, Fairview OR, Oregon City OR.
ADDITIONAL SERVICES YOU MAY NEED